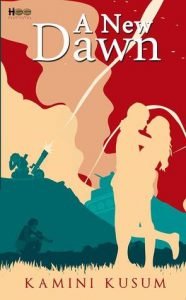 Name of the Book- A New Dawn
Author – Kamini Kusum
Publisher – Half Baked Beans
Rating- 3 / 5
A new Dawn a story of a poor guy, Shravan, who came from the village to the city along with his family for taking proper education. His family lived in the servants' house of a railway officer. Shravan was good at studies so he got admission in a renowned school by performing well in the entrance exams. Along with it, he became a good friend of his owner's daughter Mughda. They used to spend their time together.Even they gradually started feeling for each other but Mughda had to shift to Kolkata along with her family.
Here, the story took a turn and Shravan's life became more difficult. He was mocked by people. He became homeless and much more scarcity he had to face. But another girl helped him to overcome problems and became his good friends and the story went on.
It is a typical old Bollywood type story there is nothing new in it. You can predict each and every situation. The story has not many twists and turns which makes the story boring sometimes. In the end, the story started running like anything. It was like the author was in a hurry to finish it. The ending could have been much better but I guess the ending justifies the name of the book.
Characters are developed very well. I am quite impressed that how the author has developed each character. It will help readers to connect with characters easily.
Language is simple and crisp. So that people can understand it easily. It is either Shravan's struggle or Mughda's love for him.
Overall its a one time read for all new readers. It will encourage and motivate you towards your life that how a lower class boy takes the responsibility of his family and fulfil his dreams also.
Here is the Amazon Link- https://amzn.to/30q2Wun
For reading more reviews you can click here.