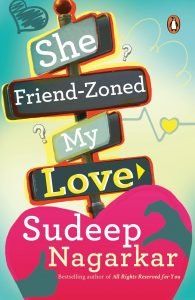 " Till there is life, there will be struggle; till there is struggle, there will be life."
Author- Sudeep Nagarkar
Publisher- Penguin India.
Rating – 4.5/5.
Review- She friend-zoned my love is a story of Amyra, Sia, Apurv and Ritvik. Everyone has different sort of goals and challenges in their life. Sia is a chubby girl who hates herself but on the contrary, Amyra is a glamorous good looking girl. They were in the same school but Amyra left school.
Again they met in the college but at the starting Sia couldn't make friends because of her chubby body. Almost all the students used to make fun of her. At that time Apurv and Ritvik came in her life like saviours. They became best friends and Amyra joined their group afterwards. Then the story keeps on going.
Firstly, I liked the cover but It could have been better. But the title completely justifies the storyline. The plot is splendid that's why I finished the book just in a day. Every chapter comes with surprises and twists. The author has successfully given the message to a stereotyped society. The way he explained the parent's expectation, social obligation and dreams creation is beautiful.
The flow of the book is smooth. The characters that the author developed were amazing. One can take time to understand the storyline at the starting but after getting the storyline anyone can easily connect with the story. I liked Amyra's character the most.
The writing style of the author is very lucid and simple. He used some slang words so that the readers can easily relate to the story.
Overall, Its a wonderful book with a strong plot, crisp narration, simple language and with amazing characters. If you love reading friendship stories then it has been written for you.
Here is the Amazon link – https://amzn.to/2LM0Stp